前往海怡半島網球場及晚宴資料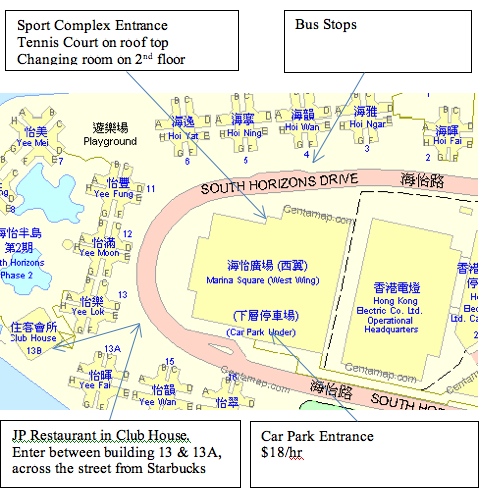 海怡半島網球場是會所
天台
,晚宴於另一邊的會所嘅"
會所菜廳
Chinese Restaurant"(見上圖左下角)。以下是前往方法:
Transportation by Bus
>
Exit bus here.

>
From Causeway – 592. Bus stop in front of the newly opened Hysan Place facing Hennessey Road (Next to Rolex Shop).

>
From Central – 590 or 90. Bus Terminal below Exchange Square.

>
From Admiralty – 590A. Bus Terminal below United Center.

>
From Kowloon – 171. Many bus stops along South bound Nathan Road between Price Edward and Yau Ma Tei. Via MTR East Rail, bus stop before cross harbor tunnel.

Parking Entrance
>
Parking in basement of Marina Square West Center

>
$18/hr.

>
Up to 2 hrs free parking w/ $800 purchase at Park-n-Shop

Sport Complex Entrance
>
Around the corner from Maxim Cake Shop

>
Tennis courts on roof top

>
Changing room on 2
nd
floor